---
Psycho Sykes to Starry "Songbird" Skies - "Psycho" Sykes - 11-10-2019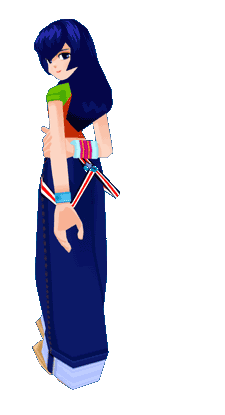 CHARACTER NAME:
Starry Starbird Skies
CHARACTER SOURCE:
OC
CHARACTER HISTORY:

Starry starts out at a EDM festival enjoying herself, dancing up a storm. As she finds out one day, she couldn't spend most of her life doing what she loved. Reality soon kicked in when she found herself of much needed cash for more kicks of drugs. She found herself a hop and skip in the wrong neighborhood and ended up in the Omniverse.






STATS:
ATK:3
DEF:2
SPD:3
TEC:3

STARTING PROFICIENCIES:
Physical strength (1000), Master Acrobat (400)= 1400 OM

STARTING POWERS:
Flight (1800)= 3100 OM

STARTING MOVES:
LSD Trip- (Flight)

When LSD Trip is activated, it allows Starry Skies to control her own hallucinated world to her advantage. She can fly in her own made up world along with controlling how her world reacts to the enemy in question.

The world is a hallucination created by LSD.


I confirm that I have read and agreed to the Rules of Conduct.
Yes
Where did you find us?
I'm Jak and Marcus



With final math counts, I should have 2000 OM left.


---
RE: Psycho Sykes to Starry "Songbird" Skies - Dust - 01-16-2020

Hiya~!

History needs a lot more detail in her background, especially for an OC. And this doesn't really tell me anything about why Omni chose to pull her into the OV, or how.

You have too many stat points. You have 11, but unless you purchased an unlock with your starting OM you should have 10.

Speaking of math. xD
1400 for proficiencies and 1800 for powers equal 3200 spent OM.

Move(s):
LSD Trip
-There's no OM cost for this move.
-I believe you need a great more deal of information with this move, as its not really telling me how she's manipulating reality for her opponunt.
-Also, how does only flight achieve this? Telepathy would be required to manipulate their mental state. And that is only if its a mental hallucination. If you are actually trying to change the area you will need to look into other proficiencies. I suggest Area of Effect and depending on what you are trying to have the hallunications be, maybe Materialization.

Give it some thought and give us a heads up when you've made edits. =3


---