[b]CHARACTER NAME: Caroline "Chara" Dreemurr (Chara is the account name I'd like to be changed too)
[/b]
Character source: Undertale
Character history: Chara's story begins when she around the young age of 9 fell into a pit wanting to kill herself due to the sight of what humanity did to itself in the third world war pretty much destroying most of human life. She had heard of the stories of monsters being real but didn't believe them. Upon surviving the fall somehow she was found by Asriel her closest and one of the few friends she would have.
Over the years she was trained in combat and various other skills she would need to learn as the adopted daughter of the king and queen. She took a liking to one handed swords as well as various knives; and carries a dagger with her for various reasons.
Chara was content with this new life when a second human fell and started to kill various monsters before getting killed themselves by the royal guard. When Toriel found out she took Asriel and ran and hid with him causing Chara to become furious at her mother for leaving Asgore without one of his children and his wife scarring the peaceful monster.
This causes herself to grow more and more secluded and resentful for humanity and some monsters, that she roams the underground for souls that are needed to open the barrier. She is asleep one night when she awakens to find a smiling figure in front of herself she is 19 at this point.
[b]PHYSICAL DESCRIPTION:
[/b]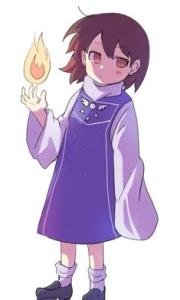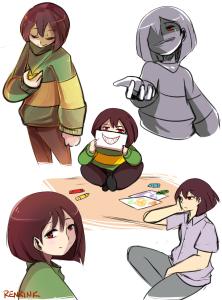 She has a height of 5'6"
[b]

(the picture on the left's center drawing is her formal ware; the center picture is her formal ware's color scheme. the right most picture is her outfit she wears most of the time.)
[/b]
STATS:
Atk: 3
Def: 3
Spd: 2
Tec: 2
STARTING PROFICIENCIES: Physical strength (1000), Ranged (1000), Ranged materialize (600), Homing (600), Debuff (1000)
[b]STARTING POWERS:

Master acrobat (400), Basic enhanced senses (1400), Insight (1600)
[/b]
STARTING MOVES:
Fireball(600) [b]

(requires homing, ranged, physical strength)

[/b]
Chara can use fire magic in one of two ways. The first is to form a five inch spherical ball of flame floating above her hand after one second; it takes[b]

light concentration and a fair bit of energy due to her not having a lot of magic to spare. she then can hold it for up to ten seconds or toss it whichever comes first. When thrown it flies for 50 feet at a speed of 20 mph. When it hits a target it deals first degree burns and extinguishes upon impact.
[/b]
The second option is to light one of her limbs on fire which doesn't hurt her and swing it at a target. This lowers the range of the attack to melee range where the successful attacks cause first degree burns. This is quite exhausting and takes about five seconds to use.
Note: both forms of Fireball can be used in conjunction with other moves as long as one hand/limb is free to be used.
Arming sword (300) (requires Physical strength)
Chara owns a Arming sword with a short blade length for a weapon of that type which is [b]

around 70 cm or around 27 inches. She uses her right hand for the Arming sword which means if its occupied the sword is unable to be used. damage wise it can cut through skin given the opportunity but thicker or more durable materials will take longer and more effort to cut through. Its not very exhausting but requires a fair bit of concentration to be used effectively.
[/b]
[b]I confirm that I have read and agreed to the Rules of Conduct.

Yes
[/b]
[b]Where did you find us?

Uncle Google told me about this site.
[/b]