So I hear this amazing character is free to be taken so I thought that I should take them before they get taken I feel like this is a great pick for my second character Ash don't worry this is a pick that isn't meme character so lets begin.
CHARACTER NAME:

Tyson Renegade
CHARACTER SOURCE: 
Original OC [Don't worry he isn't from any show I know]
CHARACTER HISTORY: 
Unknown; His memory was completely erased still his family, friends everything was gone. The test subject was ready his memories and everything about him was erased being the final test subject. He was checked constantly seeing if his body was stable enough to begin the project. Test Subject #71689 was ready as guards took him and placed him inside some
tank as it started filling up with water. 
Unknown creatures began Project Zenotic as demons we're sacrificed and their powers and abilities were placed into the creature. It did something to left arm as it was being ripped apart as demons replaced it completely. The test subject survived the procedure his body was stable,
It was a complete success as Project Zenotic was breathing but his creators knew one day the creature would become powerful. But the birth was complete sooner enough the creation started growing over the years. The decision was to send him to another planet and then a pre-determine point come back to check on the creature's progress. Project Zenotic wanted to know what his purpose was something the creature wanted desperately his creators wanted him to become the ultimate killing machine. But his strength was too strong as were some of his powers...They had no choice the decision was made to erase his memory in time it would come back. However, The creators thought this creature would become a threat upon them with his memory gone the creature reverted back into human form. 
One of his creators....Thought Project Zenotic was going to be the great asset in the years to come. They teleported him on some weird looking planet returning back to their home. The creators we're confronted and killed by this High Counselor for selfish reasons...no one knows why either. Project Zenotic cease to exist at that moment....
He started to wake up wondering where he was yet something was wrong. 
The man couldn't remember anything. 
Someone went to great legendary lengths to erase his memory the man doesn't know anything about himself just his name....Tyson Renegade. 
One question remains and that Tyson always asked himself. "Who am I?" At least that is what happened before Tyson got murdered by the anti-Christ called 15-jzall and so the Tyson in their infinite wisdom brought him back to continue his crusade against the evil's known as 15-jzall and the cannibal cultists.
PHYSICAL DESCRIPTION: 

Tyson is[b] 

an super hybrid of a demon and oni having both heritages fused into one perfected body. He has a muscular build  taking an dark brown complexion though his body his ripped. The strangest thing about him? Is his left arm....Being mutated in something of an warmonger's arm. The arm itself is freaky it having various sharp claws on different parts of the arm [Fingers, Knuckles, Shoulder and the Elbow]. The oni demon has horns on his forehead that will come out his demon forehead and they'll start to bleed. Having red eyes and bleached hair sometimes looking white or faded yellow. The demon's clothing is sometimes of a gentlemen's attire or street attire depending on the situation is good or bad but sometimes it doesn't really matter to him. Like some humans, Tyson wears underwear having on black underwear and black socks. Now for his attire

 

consists of black baggy jeans, a white sash and customized sneakers to look more human.


[/b]
Tyson has a height of (6'1") and weighing in at about 198 pounds.
He'll wear a sleeveless shirt but it will get torn on the left because of his mutated arm so shirts. Depending on their color the dude will wear them or rip them apart when the battle is on.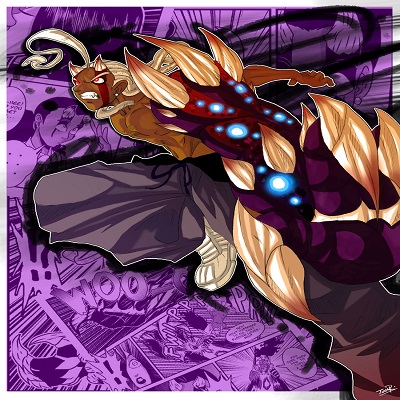 STATS:
ATK:5
DEF:2
SPD:3
TEC:0
STARTING PROFICIENCIES:
Physical Strength(1000), Ranged Proficiency(1000)
STARTING POWERS:
Super Speed(1000), Burst Movement(800), Master Super Jumping(800), Master Acrobat(400)
STARTING MOVES:

None
I confirm that I have read and agreed to the Rules of Conduct. 
Where did you find us?

From the cult of Tyson
Quote:Note this is a fake joining thread unless I actually want to do this.